by alsmith | November 1, 2023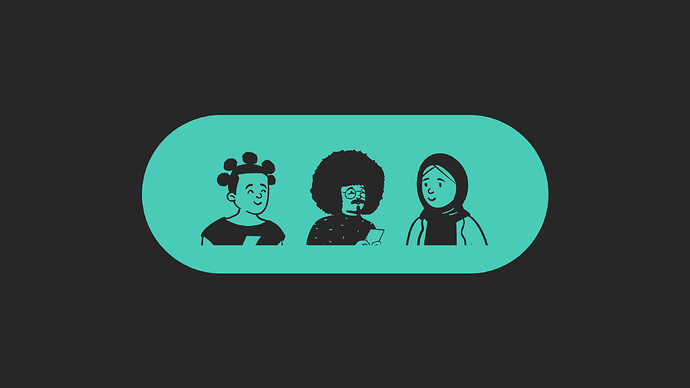 Right now, the Tor network, Tor Browser, onion services, Snowflake, and the ecosystem of tools and services built and maintained by the Tor Project are protecting the privacy of millions of people. Because of the way the Tor network and all Tor tools are designed, there's no way for us to know what users are doing from a technical perspective. (That's privacy by design.) Instead, in order to understand how different people use Tor, we ask! And in this blog post, we're highlighting just some of the stories Tor users have shared with us (explicitly, with consent) about how Tor makes a difference in their lives.
Who you help when you power Tor with a donation
My parents were very strict. They used to look through my browsing history… I wasn't doing anything wrong, but I didn't like that. Tor helped me very much. I educated myself… It got me out of the social bubble and I was able to get insights, ideas, and views from many different social groups. I would never be free without Tor. And I am not talking just about digital freedom. I am talking about physical freedom as well.

[Tor] helped us Iranians a lot in this systematic internet censorship in Iran. I use Orbot and voice my protest against the Iranian government and I get access to the real news of developments. On behalf of myself and all the people of Iran, I am grateful.

I started using Tor when I suddenly saw ads for travel agencies on unrelated sites after I was looking into flight options. I was really disgusted with how my search history from one website got shared to another website just to show me tailored ads. To prevent this from happening again in the future, I started using Tor. Tor nowadays just gives me peace of mind.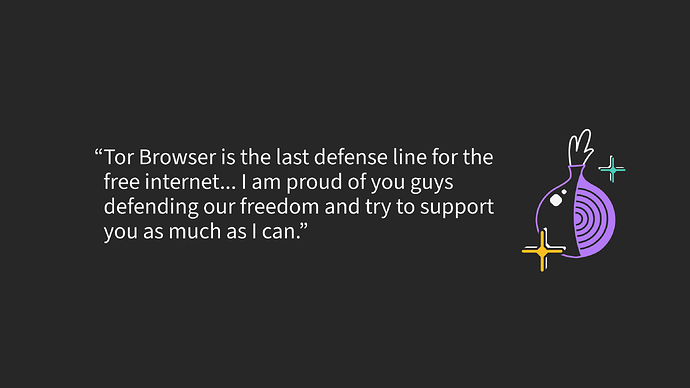 Tor has allowed me to freely express myself as a transgender lesbian while keeping my online identities separate from work, family, and most friends.

Tor helps me bypass blocking and get more privacy. For example, many wonderful websites, such as foreign services or the websites of the Russian opposition, have been blocked.... Luckily, with Tor I can access this… without it, many very important sources of useful information would be inaccessible.

Tor Browser / Orbot / Tails helped me so much during the 2019-2020 Hong Kong protests as a pro-democracy activist in Hong Kong. It allowed me to read / write / organize freely during the protests.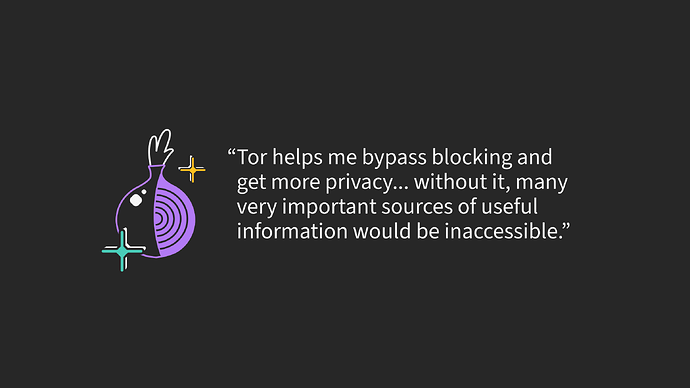 How to contribute
Make a donation:
This year, more than ever, we need those who can make a donation to the Tor Project to do so. The demand for strong privacy online is mounting, and as a small organization, every donation makes a difference. If you value the privacy that Tor provides to yourself or to the people like we've featured in this blog post, please make a donation today.

Share your story:
We know that especially this year, resources are stretched thin, and not everybody is in a position to donate money. But you can contribute in a meaningful way, by participating in our recent survey and sharing your story.
We've launched a new survey designed to help us learn more about common beliefs and attitudes towards encryption, its importance in your day-to-day online interactions, and how it affects your trust in digital communication technologies.
Your participation is priceless and will go a long way in ensuring the success and relevance of our outreach and advocacy efforts. Please be as specific as you can without putting yourself at risk.
Thank you!
---
This is a companion discussion topic for the original entry at
https://blog.torproject.org/support-tor-project-share-your-story