Operating System you are using: Kubuntu 21.10
Tor Browser version: 11.0.14 (based on Mozilla Firefox 91.10.0esr) (64-bit)
Tor Browser Security Level: Standard
I get the message "Tor Browser Can't open this Page" when attempting to view a video. The "Open site in new window" results in
Sorry, we couldn't find that page

Make sure you've typed the URL correctly, or try searching Vimeo. You could also watch one of the videos below instead
So, it is a vimeo video that is embedded on another site. I have tried it in Firefox, same problem. Have tried disabling tracking, disabling any extensions, etc,etc.
Any workaround for this please ?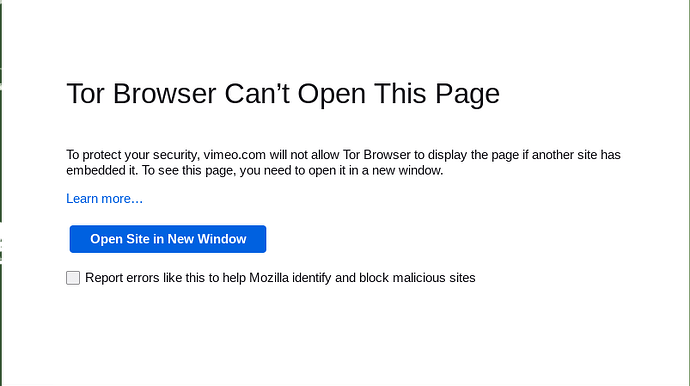 Later , …So, my gut feeling was that it is essentially a sharing problem. That the video on Vimeo was 'private', so if another site tried to embed it, then the browser (FF or Tor) won't allow it.
When I logged onto Vimeo, the error message went from …
Sorry, we couldn't find that page
to
Unauthorized

You are unauthorized for this action.