Here's an apparently minor issue that is nonetheless interesting and exposes a UI issue in Tor Browser.
When using Tor Browser v12.5.1 on Debian, any gitlab.io subdomain is blocked on the first try: there is no error message, it simply doesn't load (example: https://sigvids.gitlab.io/). When retrying, the page loads, after which that subdomain works as normal, even if I change the Tor circuit. After clicking "New identity" / restarting Tor Browser, the issue repeats. It only happens for Tor Browser on GNU/Linux (Debian, at least) - not Windows, nor Android.
In the browser's web developer tools → Network, I checked the failed GET request and looked at the Timings tab. It seems that the first connection breaks during the TLS setup phase: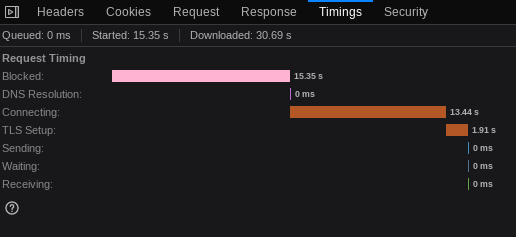 Indeed, if I disable HTTPS-only mode and go to (for example) http://charts.gitlab.io/, the page loads on the first try. If I use HTTP first and then HTTPS, the page loads on both tries.
So it's a TLS-related issue. Here's the weird thing: Tor Browser has the same JA3 fingerprint on both Linux and Android, their TLS configurations seem to be identical. So if it's some kind of firewall issue on GitLab's end, why doesn't it block them both? How does it tell them apart? And how does the firewall recognize that the second visit is made from the same Tor Browser instance during the same browsing session? What gives it away? I would love to know.
Anyway, the UI issue I mentioned is that after the first connection fails, the button to view the Tor circuit is not shown. It really should be available: if a server drops the connection during the TLS handshake, it might only do that to specific exit nodes (it's not the case here, but it could be), so users should be able to change the Tor circuit.
I was going to take this issue to GitLab support, but then I thought Tor Browser devs might want to look into it before GitLab changes anything on their end.