I have recently noticed that Russia Today's website is linking to the Tor Project in their instructions on how to access RT [1] despite possible western government censorship*.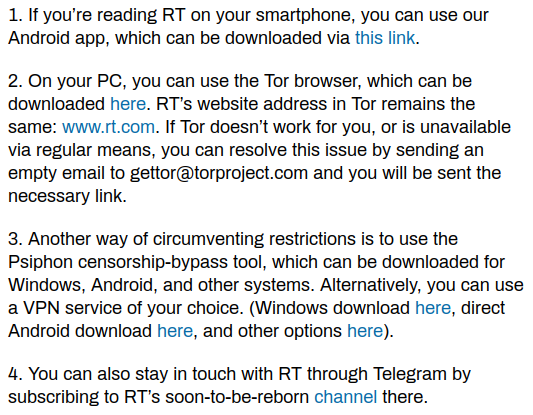 of course, while it is a good thing that tools for circumventing censorship are available and that more people are made aware of them, I think it is deeply problematic if russian state media is trying to use it to one-sidedly keep delivering propaganda and disinformation campains to uncritical audiences abroad.
I think the best way to counter this is to add a notice raising awareness both about RT being a russian propaganda network, as well as about how the russian government currently doing it's best to silence dissidents at home to the Tor Project website, especially the download page [2].
The notice should be clearly visible and be as hard to miss as possible, to ensure that any people who are sent to the Tor Project website by that RT guide at least have the information to reconsider whether they can rely on RT as a trustworthy news source.
[1] the original guide on RT: How to access RT.com — RT Russia & Former Soviet Union
[2] this is the specific link in the guide (at time of writing): Tor Project | Download
Note: While western governments are now doing some censorship of russian state media due to the war, I don't know how consistent it is across countries; At least where I live, I can still access the RT website fine through a regular browser (though their DDoS protection has given me some trouble), while the official youtube channel is blocked in my country.